There is nothing better than good ole Chinese comfort food!  My Sesame Orange Honey Shrimp Recipe will have you wondering why you never made it homemade sooner.  It's THAT easy.
I absolutely LOVE Chinese food.  However, leading a gluten and dairy free lifestyle has made me shy away from some of my favorite foods, and this is definitely one of them.  That obviously didn't stop me from re-creating this yummy dish without any of you even noticing that it is gluten and dairy free!
The ingredients are super easy to put together.  I think a lot of people are always scared to bread any type of food.  I mean, let's be honest.  Breading can be messy and, if you don't do it right, the breading just falls right off.  Lucky for you babes, I've got the breading down to a science.  It works every time and it doesn't take long at all!
Here are the ingredients that you will need:
Ingredients for the Sesame Orange Honey Shrimp Sauce:
4 tbsp of honey
4 tbsp of orange juice
2 tbsp of low sodium soy sauce
2 tbsp of sugar
2-3 tsp of corn starch (depending on the level of thickness you want)
2 tsp of olive oil
Ingredients for the Outer Coating Mix:
1/3 cup of plain flour  >> If you're GF like me, I used 1-to-1 Baking Flour from Bobs Red Mill: https://www.bobsredmill.com/gluten-free-1-to-1-baking-flour.html
1 cup of corn starch
1/4 tsp baking soda
Other Ingredients:
1.5 – 2 pounds of shrimp (peeled and deveined)
2 Green Scallions
Sesame Seeds to sprinkle on
Salt and Pepper to your liking
Canola oil for frying (about 2 inches deep in a frying pan)
2 egg whites
Directions:
I personally love a very seasoned shrimp.  I love everything well seasoned. Lol.  So, I am NOT SHY when it comes to my seasonings.  I like to take the shrimp and add some salt, pepper, garlic powder, and a little vinegar.  I mix it up in a bowl and then I place the shrimp in a storage Ziplock bag and let it marinade for at least an hour before I use them.
The reason I do this is because I hate my shrimp having a really fishy, smelly taste lol.  By doing this, it neutralizes that strong fishy scent that sometimes the shrimp has.  It also neutralizes the flavor so that when you add the fried, breaded shrimp to that yummy, sweet sauce, the flavors are mouth-watering!
Let's start cooking this Sesame Orange Honey Chicken!
Once you are ready to start cooking, take the shrimp out of the fridge and Ziplock bag, and place in a mixing bowl.  Depending on how much shrimp you are cooking, take 1-2 egg whites and mix them in with your shrimp.  Only use the egg whites!! I know this may seem weird but it works!!
In another mixing bowl, add your corn starch, honey, orange juice, low sodium soy sauce, sugar, and olive oil.  Make sure to mix well so that all of the ingredients are dissolved well.  There should be no lumps or sugar or cornstarch. If you have lumps, keep mixing until it is all dissolved.
Take your cornstarch, flour, and baking soda and mix it all together in a large, separate bowl.
Take your seasoned shrimp mixed with egg whites and coat them evenly with your cornstarch mix.  I usually just take my shrimp and throw them in the cornstarch flour mix.  I shake them around and I get my hands in it.  Yes, it can get a bit dirty.  You can wear gloves.  But, it makes it easier if you really mix it good and pat it into the shrimp so that the breading does not fall when you fry the shrimp.  Make sure the breading coats the entire shrimp. Place the shrimp on a tray or rack and throw out any of the leftover cornstarch flour mix.
Heat your canola oil to 350 degrees.  This is crucial.  If your oil is not hot enough, the coating will get extremely greasy and soggy.  Make sure you use your thermometer, as pictured below, to make sure that the oil is at 350 degrees.
Time to fry your shrimp!
Once it reaches that temperature, fry your shrimp.  I usually fry them for about 5 minutes.  This is how they look frying.
Once they get that nice golden color, use a large spoon with holes in them to take them out, allowing the oil to drip out of the holes in the spoon. Place your fried shrimp on a paper towel to absorb the excess oil.
In a sauté or wok pan, heat up your honey orange sauce on medium until it reaches your desired thickness.  I normally don't like mine too thick.  I then take my fried shrimp and toss it into the pan with the sauce.  Toss your shrimp well so that the yummy sauce gets into every crevice of that crunchy shrimp!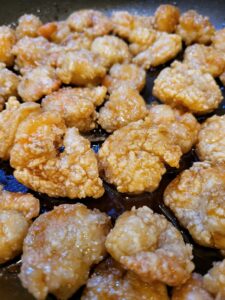 Turn off your stove and sprinkle sesame seeds over the top of the shrimp and throw in the chopped green onions as well. I normally serve this Sesame Orange Honey Shrimp with fluffy white rice!! My family goes crazy for it!
Let me know what you guys think and don't forget to tag me on Instagram, @realdenisewilliams, so I can see all your amazing re-creations of this dish!  I can't wait.
If you're interested in a yummy breakfast idea that literally takes about 10 minutes to make, check out my Breakfast Avocado Recipe with Sunny Side Up Egg: https://lifewithdenise.com/2022/07/breakfast-avocado-toast-with-sunny-side-up-egg/