You guys… Chokers are back!  I'm so excited for this resurgence of the 90's trend.  In the ever-evolving world of fashion, nothing truly ever fades away. Trends are cyclical, and what was once passé can return as the next big thing. Case in point: chokers. Once a defining accessory of the '90s, chokers have made a grand comeback in 2023. This resurgence represents more than mere nostalgia; it's a testament to the choker's timeless appeal and versatility.
There is an impressive variety of chokers, from minimalist to elaborate, grunge to glam. Material choices span across velvet, leather, lace, pearls, crystals, metals, and even tattoo styles. The beauty of this trend lies in its adaptability – a choker can be as unique as the person wearing it.
How to Wear Chokers in 2023
There are countless ways to incorporate a choker into your outfit, regardless of your aesthetic preferences.
Casual…but dress it up!
The combination of a black choker with some cargo jeans or a skirt is the epitome of casual chic. The choker adds a touch of sophistication, proving that less is often more.  Pair this with a chic, black leather crop tank top and you're set.  I love how I paired this simple black choker with a cargo skirt and some boots for Memorial Day weekend!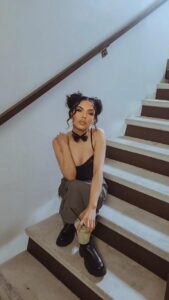 Elegant Ensemble
For a night out or an elegant event, a crystal, gold, or pearl-encrusted choker paired with an ivory or white dress/linen pants will make you stun. This blend of classic and contemporary showcases the power of a choker to elevate an ensemble.  Take a look at Anne Hathaway's stunning look at the 2023 Met Gala celebrating Karl Lagerfield.  She wore a custom Versace gown with a gorgeous gold choker that made the entire look sophisticated and timeless. 
Anne Hathaway – 2023 Met Gala; Pic credit: @annehathaway IG
Flowers
It's Spring and big, fluffy flowers on chokers are super cute and fun!  They can also add a romanticizing touch to any outfit.  I dressed up a sleeveless, black dressy jumpsuit with a black velvet choker and red rose.  I matched it with a red lippie, pinned back my curls and added a few curls to frame my face.  The soft curls and the choker really made it a sexy, romantic look and was a total vibe.  It definitely turned heads.  
Where to Shop for Chokers in 2023
Chokers have become widely available thanks to their renewed popularity. From luxury boutiques to online marketplaces, there are endless options to satisfy every style and budget.
High-End Boutiques
Boutiques like Gucci, Chanel, and Tiffany & Co. offer an exquisite selection of chokers for those seeking luxury. These brands provide meticulously crafted pieces made with high-quality materials and avant-garde designs, each carrying a distinctive elegance.
Online Marketplaces
Platforms like Etsy and Amazon are a treasure trove for unique, handmade, and vintage chokers. Independent artisans create truly one-of-a-kind pieces that make a statement.
Affordable Retailers
Budget-friendly retailers like H&M, Forever 21, and Zara are perfect for fashionistas looking to stay on-trend without breaking the bank. These stores offer a vast assortment of chokers, ranging from minimalist to statement pieces.
Conclusion
In 2023, the choker trend has exploded, bringing an added edge to the fashion landscape. Their versatility allows them to be dressed up or down, transitioning seamlessly from day to night, casual to formal, and everything in between. With so many places to purchase these accessories, anyone can take part in this resurging trend. Chokers, once again, are more than a mere accessory; they're a fashion statement, a mode of self-expression, and a reflection of the era. Don't hesitate to revive this '90s trend and incorporate it into your own unique style.
Please tag me on Instagram, @realdenisewilliams, in all your beautiful pics and videos so I can see your looks!! Can't wait babes!